VPK is having a Special Event Day!
VPK is closed for Martin Luther King Day but we have a very special day planned for those who would like to participate.
Pig Out on Reading Challenge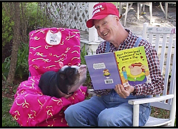 VPK is having a reading challenge!

Log your reading minutes with your child!
Click icon to download or print reading log.
The class with the most reading minutes will get an ice cream party, and their teacher(s) will have to Kiss a REAL Pig!!
When: Jan 18th from 9:30pm- 12:30pm
Where: A Children's Kastle (Mulrennan)
Cost: Only $10
Lunch: Please pack a lunch for your child so we can have a picnic to finish off our day!
Details: Farmer Minor and his Pig, Daisy will be coming for a very special story time! At the end the teacher whose class has the most reading minutes will have to kiss Daisy the Pig!